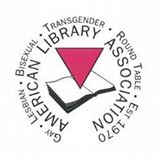 By Sam Leif
The Newlen-Symons Award honors a librarian, library staff member, library, library board, and/or library friends group who have designed programs and/or initiatives responsive to the needs of the gay, lesbian, bisexual, and transgender (GLBT) community.
By honoring programs and/or initiatives with demonstrated impact on the GLBT community that have been sustained over a period of time, this Award seeks to 1) increase the number of services to or for the GLBT community in libraries, and 2) enhance the quality and sustainability of such services.
The 2017 Newlen-Symons Award recipient was Open Book Library. GLBTRT 2017 Chair Deb Sica explained, "The tremendous efforts put forth to make GLBT materials available without being hindered by limited resources is something to be commended." The Open Book Library was selected because of its vast volunteer program, community outreach, as well as the depth of its collection and services.  Founded in 1991, the Open Book Library is staffed mainly by volunteers and serves the French and English speaking population of Montreal.
Open Book Library general director Christian Tanquay expressed his commitment to our community when accepting the award. "In those times of darkness and uncertainty following the American elections, we know how important LGBTQ-specialized libraries are for the LGBTQ communities, providing a safe haven for each and every one. We will continue to hope and proudly serve our amazing communities, no matter what lies ahead."
For more information about the award and how to submit nominations, visit http://www.ala.org/rt/glbtrt/awards/newlen-symons-award-excellence-serving-glbt-community.