In 1996 English play and screenwriter Alan Bennett declined to accept a knighthood from the Queen of England, on the grounds that "it would be like wearing a suit every day of your life."1
He had similarly refused the award of Commander of the Most Excellent Order of the British Empire (or CBE–because what a mouthful), which put him in a club with David Bowie and C.S. Lewis, who also opted out of the honor.

While Bennett himself would probably roll his eyes, an 85th birthday is something to acknowledge and with a body of work that spans television, stage, film, radio, audio, and print, this contributor thinks a quiet shout out on this blog is appropriate.

I'll include a wonderful line by Bennett in his screenplay The History Boys: "The best moments in reading are when you come across something – a thought, a feeling, a way of looking at things – which you had thought special and particular to you. And now, here it is, set down by someone else, a person you have never met, someone who is even long dead. And it is as if a hand has come out, and taken yours."
Here are a few more titles to check out in honor of Bennett:
The Madness of George III
A play depicting King George III, who in 1786 was one of the most powerful men in the world. As the King's mind becomes more unhinged and his behavior more erratic, other political figures aim to undermine authority and take control. The play was adapted into a film in 1994 which earned several Oscar nominations and won Best Art Direction.
The Uncommon Reader
When her corgis stray into a mobile library parked near Buckingham Palace, the Queen feels duty-bound to borrow a book. Discovering the joy of reading widely (from J. R. Ackerley, Jean Genet, and Ivy Compton-Burnett to the classics) and intelligently, she finds that her view of the world changes dramatically.2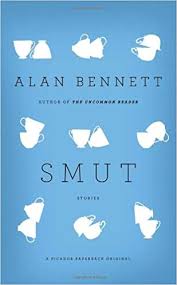 Smut
One of England's finest and most loved writers explores the uncomfortable and tragicomic gap between people's public appearance and their private desires in two tender and surprising stories.

Jonathan Owen, "Sir Alan? Oh no, it'd be like wearing a suit every day." Independent. Last modified May 31, 2009
Book summary snippet via Amazon.
Book summary snippet via Amazon.