Ngan, Natasha. Girls of Paper and Fire. Jimmy Patterson Books. 2018. $18.99. 400p. HC. 9780316561365.
"Her kisses heal the parts of me that the King broke. They tell me: You are strong, Lei. You are beautiful. You are mine. And, always, most important: You are yours."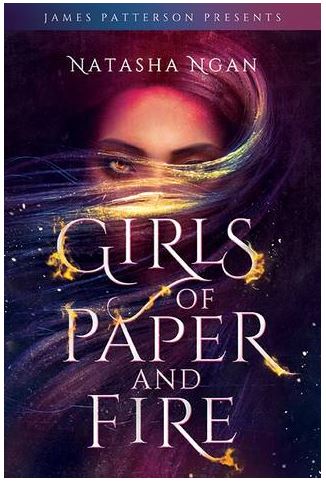 Natasha Ngan's Girls of Paper and Fire has been well-hyped — and I am here to tell you all, rightfully so. This novel takes what we know as typical YA fantasy and turns it on its head just enough to make something incredibly new and exciting. Where many novels would take the premise —a young impoverished women plucked from her quiet life to live as a ruthless king's concubine — and turn that into a story about being thrown into thrilling wealth and intrigue, Ngan does something much different and much welcomed.
First and foremost, Girls of Paper and Fire is a love story. A sweet, slow moving love story that culminates in a relationship of vulnerability, sacrifice, and bravery. It is also a love story between two women. In YA fantasy, that is no small thing. As a queer reader, I was moved by the normalcy this pairing was treated with, and never once felt like it was a token relationship made diverse for no real reason. Instead, it was a love story that made sense AND was queer — taking two compatible people and pushing them together for the sake of bettering one another.
More than a beautiful love story, it is also a story about female agency. At every turn, these women find ways to make choices for themselves, even in small ways, while other choices are ripped away from them. Fiercely feminist, this novel explores ideas of different types of womanhood — how bravery and strength can manifest in a woman in many different ways, some "feminine," some not. It was refreshing to meet so many female characters that were all so different and full formed — particularly, the relationship between the main character, Lei, and her friend Aoki, compels the reader to consider how to balance personal friendships with political views. Just when the reader thinks that these two ladies can no longer find commonalities, they surprise you in their caring for one another despite all else.
Ngan also does an excellent job of world building, where Ikhara is a vivid painting of a place with rolling meadows and country hills as much as a place of mysterious magic and glass castles. Each person Lei meets throughout her journey to the capital provides a fresh view of Ikhara and its caste system, cleverly done and expertly sprinkled into the reader's journey. A world built on the traditions and beliefs of Asian culture is a fresh take on the YA fantasy genre, and a much-welcomed departure. Not only is this novel about women loving women, it is about women of color rising up and working towards a better world.
GIRLS OF PAPER AND FIRE is a great fit for readers of Sabaa Tahir, Sarah J. Maas, and Leigh Bardugo. This own voices novel is a lush, feminist fantasy with wonderful queer representation. A slow burning romance and intense action-packed political intrigue make for a page-turning experience. A must read for any fantasy lover looking for a fresh take on the genre. Trigger warning for sexual abuse, violence, and rape.
Rachel Newlin
Schaumburg Township District Library